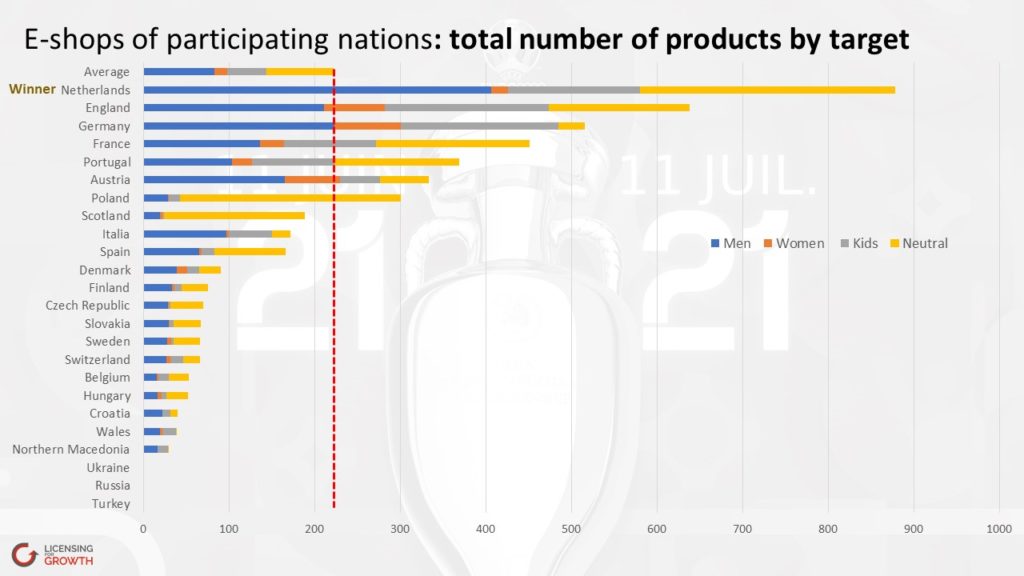 There is the sport competition on the pitch and the business competition off the pitch. For the first time ever, a comprehensive analysis of the merchandising offer of each participating nation has been made and published by LICENSING FOR GROWTH. The results outline significant improvement opportunities including among high profile football nations such as Italy, Spain, Belgium.
3 KPI's used to measure and compare merchandising programmes
Bruno Schwobthaler CEO of Licensing For Growth, explains the methodology: we looked at three quantitative KPI's to allow each National Association to benchmark its performance vs other countries and vs the European average using objective measures. Thus any NA is now able to set specific targets to grow its merchandising business.
The 3 measures are: firstly the total number of products. A basic rule of merchandising is "the more products, the more sales". The European average is 222 products, the Netherlands get number 1 spot with 878 products. The interesting point here is that the majority of countries (17 out of 24!) are below the average, including Italy, Spain, Belgium which are big football nations: room for growth in most countries! One of the consequences of a limited range of official merchandise is the proliferation of non official merchandise which can be generic or worse, counterfeits. In both cases the federation is losing because it is unable to satisfy fan demands for official products and also because it will not receive any revenues from the sales of generic or counterfeited merchandise.
The second KPI is the split between dual-branded merchandise featuring the kit supplier's marks and the single-branded products which only bear the federations's marks. The higher the single branded share, the higher the independance of the federation vs its kit supplier / technical partner and the higher the ability for the federation to tell its "own story". European average is 40% and France tops the ranking with 69%!
The third KPI is the split by target Men, Women, Kids, Neutral which indicates the level of focus. This is particularly interesting as federations communicate strongly on their initiatives to develop women's and grassroot football: the commercial reality is that products targeting women represent on average only 7% of the total, with a maximum of 15% for Germany.